Coronation Street spoilers: Amy Barlow insists she wants an abortion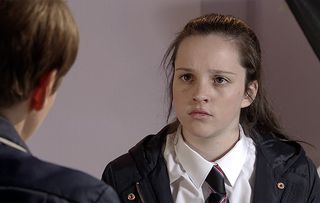 A nurse insists Amy Barlow must discuss her situation with an adult.
Amy Barlow bunks off school and attends a family planning clinic, explaining to the nurse she's pregnant and needs the abortion pill.
But when the nurse insists she must discuss her situation with an adult first, Amy Barlow leaves feeling upset and all alone. As Tracy gets a call from school to say Amy is missing, Amy texts Liz and asks to meet in the urban garden where she drops the bombshell that she's pregnant and needs Liz to accompany her for an abortion. How will a shocked Liz react?
Audrey explains that the dry rot is much worse than she thought, the floor has collapsed and she'll have to move out. To David's annoyance, Gail insists Audrey must move in with them. But will Audrey clock that David isn't keen on having her stay?
Sinead reaches into the incubator and tentatively touches Bertie in the hope of bonding with him. But when his ECG alarm goes off she panics. Is Bertie ok?
When Abi reveals she's got a job interview, she becomes Sally's next project as she works on her presentation and interview skills. Having discovered that his bed hasn't been slept in, Carla confides in Shona that she's worried about Roy as it's the anniversary of Hayley's death. When Carla takes a call from Sylvia and still can't locate Roy she reports him missing to the police.
Coronation Street continues tonight at 8.30pm
Get the latest updates, reviews and unmissable series to watch and more!
Thank you for signing up to Whattowatch. You will receive a verification email shortly.
There was a problem. Please refresh the page and try again.