Coronation Street spoilers: Adam Barlow plots to say he's Susie's father not Aidan Connor!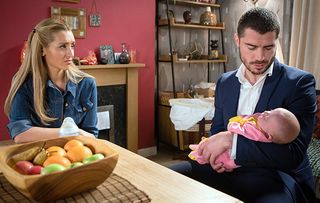 (Image credit: Andrew Boyce)
Adam Barlow shows Eva a fake DNA report he's made stating he's Susie's father!
Eva's horrified to discover that Johnny's started custody proceedings and turns to Adam Barlow. He shows Eva a fake DNA report he's made stating he's Susie's father and suggests it's a way of avoiding a custody battle. Will Eva agree to his plan?
Beth's outraged to realise that Sharon is the mysterious Mrs B, and far from the elderly lady Kirk made out! Enjoying Beth's obvious fury, Sharon compliments Kirk on the shirt she bought him. Fuming, Beth accuses a protesting Kirk of having an affair with Sharon.
Abi apologises to Tyrone for their disastrous date and they agree to stay friends. When the social worker calls at No.11, she's impressed to see that Abi is sorting her life out but warns her there's a long way to go before she's allowed the twins back. Abi's gutted and reverts to her old ways.
Having overheard Bethany tell Emma she's worried how Craig will cope in the police force, Kayla drips poison in Craig's ear, claiming Bethany reckons he won't cope being a policeman because of his OCD. Craig's hurt and when he snaps at a baffled Bethany, Kayla's secretly pleased to have driven a wedge between them.
Sinead congratulates Daniel on his article in the Gazette about Phelan and his killing spree, while Flora's devastated to read that Phelan killed her beloved son, Harvey. Daniel and Sinead rally round Flora and promise to help with Harvey's funeral arrangements. Sophie offers Ryan a job at Speed Daal.
*1 Hour episode*
Get the latest updates, reviews and unmissable series to watch and more!
Thank you for signing up to Whattowatch. You will receive a verification email shortly.
There was a problem. Please refresh the page and try again.