Coronation Street Spoilers: Bethany Platt is accused of having an affair with Daniel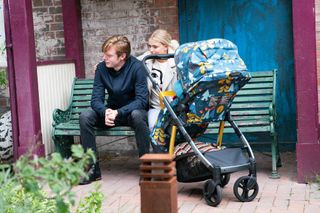 Bethany Platt is spotted in a compromising position with Daniel Osbourne...
Bethany Platt tries to help the grieving Daniel in Coronation Street's first episode on Monday 28th October (7.30pm, see our TV guide for full listings), as the funeral planing becomes too much for him.
Later in the corner shop, Daniel defends Bethany, who is being baited by Evelyn. Beth is furious when she hears about this and when she finds Bethany comforting Daniel in Victoria Garden she accuses them of having an affair before Sinead is even cold.
Gemma and Chesney are horrified to see that, in her magazine interview, Bernie has painted Chesney as a love rat, claiming it made a better story. Chesney tells Gemma that Sinead's death has made him realise they should try and make a go of things properly.
Sarah apologises to Adam for Bethany's behaviour and tells him that, if it's any consolation, Bethany deeply regrets her actions. Adam tells Sarah to stop worrying.
Gail tells Shona that she thinks of her as a second daughter and that now she's back she'll do everything she can to ease the burden. Shona's touched.
Get the What to Watch Newsletter
The latest updates, reviews and unmissable series to watch and more!
James has worked for What's on TV, TV&Satellite Week and TV Times magazines for more than 20 years. His all-time favourite TV shows (in no particular order) are Inspector Morse (but he refuses to accept The Wench Is Dead), Wallander (the Krister Henriksson version, of course), Our Friends in the North, Studio 60 on the Sunset Strip, and Around the World in 80 Days (Palin not Tennant).