Coronation Street spoilers: Can Imran Habeeb get Ryan out of trouble?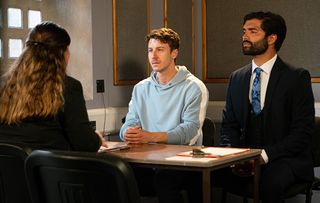 Imran Habeeb represents Ryan in his police interview.
Imran Habeeb represents Ryan Connor in his police interview. He tells them the truth about how he delayed calling an ambulance. The police warn if the pills found in his pocket match those that killed Cormac he's in serious trouble. Ronan's menacing as he tells Michelle he'll be waiting for Ryan when he gets out.
Carla and Johnny stash a packet full of fake cash in the urban garden as arranged. Hannah receives a text saying the cash has been dropped.
As Kirk takes photos from Victoria Court trying to discover the big cat, Carla watches him, could they hold the evidence she needs to expose the blackmailer and will Jim and Hannah realise they've been duped?
When she receives a letter from the hospital Sinead stoves it in her pocket unopened. As Daniel talks about the baby Sinead becomes upset but blames it on her hormones. Will she tell Daniel the truth?
Eileen despairs when Liz admits she still has feelings for Jim. Jack's down as he tells Kevin how everyone treats him differently now at school. How will Kevin respond?
First episode of Coronation Street this evening. Second episode follows at 8.30pm.