Coronation Street spoilers: Carla Connor discovers Peter's plan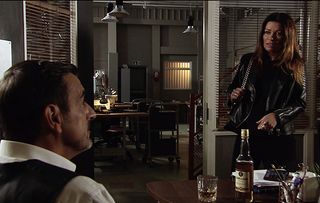 Carla Connor discovers Peter is secretly selling his share of the factory to Nigel Steadman, a business rival to Underworld.
Sarah's intrigued to see Peter head out for a meeting with Nigel Steadman, a competitor of Underworld. He lies to Carla Connor about his meeting, while she hastily hides a letter from the bank. As Nigel confirms he's still keen to buy Peter's share of the factory they're interrupted by Carla, who's been tol by Sarah' that somethings up. Telling him he'll never get his hands on Underworld, Carla demands to know what Peter's playing at. When Peter explains how she's made him feel superfluous to requirements, Carla assures him they make a good team but need to learn to trust each other.
Ronan's mother Patti approaches Ali and asks him to talk her through her son's final moments. Struggling to keep his emotions in check Ali lies, telling her he did everything he could to save her son. Later, he breaks down and tells Michelle he can't live with the guilt.
At Faye's insistence, she and Tim prepare Gina a meal to thank her for all her help round the house. Gina's touched as Faye explains Tim will then be taking her to watch Weatherfield County.
When Kate hears about Sinead's cervical cancer, she's devastated and promises Daniel she'll be there for him every step of the way.
Coronation Street continues Mondays, Wednesdays and Fridays at 7:30pm on ITV
Get the latest updates, reviews and unmissable series to watch and more!
Thank you for signing up to Whattowatch. You will receive a verification email shortly.
There was a problem. Please refresh the page and try again.