Coronation Street spoilers: Has Clayton killed Shona Ramsey?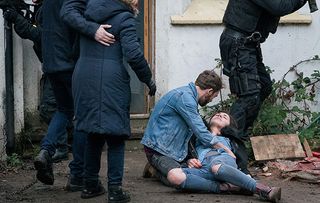 (Image credit: Andrew Boyce)
Shona Ramsey suddenly staggers from the building covered in blood and sinks into David's arms.
Shona Ramsey tries to talk to Clayton and manages to distract him and kick the knife out of his hand and across the floor. She runs out to be faced with a wall of armed officers, and in a panic, she runs back into the building. A terrified David watches with his heart in his mouth, wondering whether she get out alive. After a gut-wrenching wait, Shona suddenly staggers from the building covered in blood and sinks to the ground. David watches in anguish. Is history repeating itself?
As Sarah struggles to look after the kids, she realises with horror that Max is missing. Seb rescues him from the tram station and returns him to Sarah. Sarah's grateful and promises to ask Gary if he will give him his job back and he's clearly chuffed.
Ali tells Ryan and Kate he's had enough of the bistro and he's going to return to the medical profession.
Lolly calls in the bistro and shows Kate her wedding ideas folder. Ali and Ryan are instantly smitten. Brian and Cathy book a table at Speed Daal, explaining that every week they have a date night. Geoff is given food for thought.
When Summer suggests they should have a meeting at Speed Daal to discuss how best to campaign for the bail hostel, Billy and Paul wonder if she's trying to set them up. Claudia's horrified to find out from Sally that the council plans to build the bail hostel immediately opposite her new flat.
First episode of Coronation Street this evening.
Get the latest updates, reviews and unmissable series to watch and more!
Thank you for signing up to Whattowatch. You will receive a verification email shortly.
There was a problem. Please refresh the page and try again.