Coronation Street Spoilers: David Platt is refused bail at his court hearing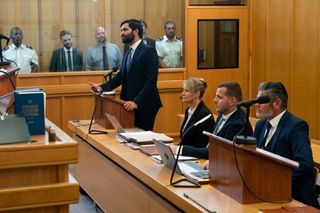 There's drama in court for David Platt today when he is refused bail after being accused of trying to kill rapist Josh Tucker...
As a worried David Platt prepares for his hearing, Abe urges him to stick to the story unless he wants to end up like Josh in today's Coronation Street, (8.30pm, see our TV guide for full listings).
Gail, Sarah, Nick and Shona attend David's hearing in the Magistrate's Court to hear David, Abe and Tez all plead not guilty to the attempted murder of Josh.
To the family's horror, David is refused bail and remanded in custody until the trial.
But there is a light at the end of the tunnel when Imran calls at the Platts with the news that Josh has regained consciousness. Shona prays that Josh will tell the police how David actually saved his life.
Bethany quizzes Maria about her feelings for Gary, but while Maria insists they're nothing more than mates, Bethany reckons she should go for it.
Tyrone invites Maria and Gary to a Halloween party at No.9 and to Maria's amusement, Gary arrives wearing a gold bodysuit. When Gary suggests they could meet for lunch, Maria readily accepts and Gary's pleased.
Back in Wales, new mum Gemma eases herself out of bed and gazes at her four babies with awe and trepidation. As a tearful Gemma struggles to express her milk, Chesney and the nurse promises her she's doing really well.
Ali assures Toyah that he's gradually weaning himself off the diazepam and he's in control, but is he telling the truth?
Evelyn suggests Michael takes Jade for a drink but Jade declines, asserting she's too tired. Tyrone's baffled by Evelyn's generosity.
Get the What to Watch Newsletter
The latest updates, reviews and unmissable series to watch and more!
James has worked for What's on TV, TV&Satellite Week and TV Times magazines for more than 20 years. His all-time favourite TV shows (in no particular order) are Inspector Morse (but he refuses to accept The Wench Is Dead), Wallander (the Krister Henriksson version, of course), Our Friends in the North, Studio 60 on the Sunset Strip, and Around the World in 80 Days (Palin not Tennant).