Coronation Street spoilers: Fiz Brown realises that Gina likes Tim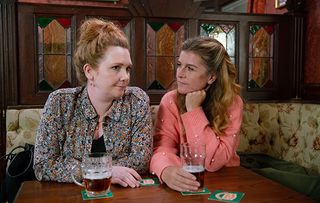 Fiz Brown is alarmed to discover that Gina has feeings for Tim.
When the factory girls rib Gina, suggesting she and Tim are like an old married couple, Fiz Brown (Jennie McAlpine) is alarmed to clock Gina's wistful look.
But will she tell her friend to steal clear? Meanwhile, Paula visits Sally in prison and tells her she has a plan which should see her freed.
In Speed Daal, Paula meets Julian, a fellow lawyer and she's cool towards Sophie, treating her as a waitress. Sophie's hurt and shows she's not happy but Paula explains that Julian has some useful evidence about Sally's case. Sophie apologises to Julian.
After clocking Evelyn's "new" earrings, Fiz shows Tyrone Vera's half-empty jewellery box under Evelyn's bed. Tyrone confronts Evelyn and demands to know why she thought it would be okay to take Vera's earrings.
Johnny and Jenny throw an engagement party for Kate and Rana. When Kate announces that one of the reasons she picked Rana is that she'll make a terrific Mum, Rana's floored. Sensing it isn't what Rana wants, Imran warns his sister to tell Kate now before it's too late.
Nick continues to screen calls from Elsa, however he's horrified to discover that Carla has been looking at his restaurant website.
Coronation Street continues tonight at 8.30pm
Get the latest updates, reviews and unmissable series to watch and more!
Thank you for signing up to Whattowatch. You will receive a verification email shortly.
There was a problem. Please refresh the page and try again.