Coronation Street Spoilers: Gemma Winter is told her babies must stay in hospital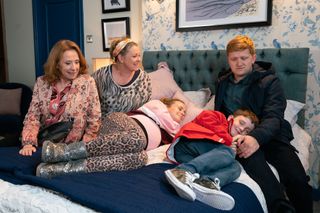 Gemma Winter is upset when she is discharged from hospital, but told her four babies must stay behind at the hospital in Wales...
Coronation Street's Gemma Winter worries when she is discharged but her babies must remain at the hospital in Llandudno on Friday 1st November (7.30pm, see our TV guide for full listings).
But her drama doesn't end there, and she's left fuming when she discovers Bernie has made the quads their own instagram account. Even the news that she and Chesney are booked into a hotel near the hospital does little to cheer the new mum up.
Maria asks Ali to take a look at Emma who has arrived at work with a pain in her side. Irritated to discover Maria and Gary have arranged a date he tells Emma she's probably just got food poisoning.
Emma heads home to bed. Toyah urges Ali to tell Maria how he feels but is he too late?
Shona's excitement about David being released in time for the wedding is dashed when Imran reveals that Josh has lied to the police and framed David for his attempted murder.
Having bought a batch of bouncy castles, Michael suggests Hope might like to test them out. Jade agrees on condition Hope behaves herself... but will this end in tears?
Get the What to Watch Newsletter
The latest updates, reviews and unmissable series to watch and more!
James has worked for What's on TV, TV&Satellite Week and TV Times magazines for more than 20 years. His all-time favourite TV shows (in no particular order) are Inspector Morse (but he refuses to accept The Wench Is Dead), Wallander (the Krister Henriksson version, of course), Our Friends in the North, Studio 60 on the Sunset Strip, and Around the World in 80 Days (Palin not Tennant).