Coronation Street spoilers: Hope Stape loses Ceberus!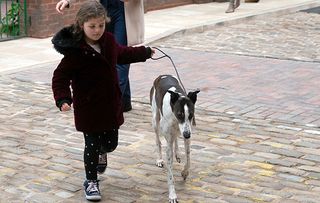 Tyrone and Fiz break the news to Evelyn that Hope Stape has lost Cerberus
Fiz sets about finding some dog-friendly accommodation for Evelyn, despite Evelyn's best attempts at emotionally blackmailing Tyrone to let her stay. Tyrone and Hope Stape take Cerberus for a walk but when Tyrone becomes momentarily distracted he realises that Hope and Cerberus have disappeared.
Hope announces she put Cerberus on a tram to Rochdale and as Tyrone and Fiz break the news to Evelyn, Hope asserts she's not even sorry.
Amy reminds Steve and Tracy that under their new contract it's family night. But when Amy suggests they cancel, Tracy grows suspicious that she has a crush on someone so Steve insists they stick to their original plans. It's clear that Steve is enjoying living under the contract!
Imran tears a strip off Leanne for jeopardising his case through her involvement with Nick. Toyah, playing the protective sister, comes in to the office to give Imran a piece of her mind however passion gets the better of them and they end up kissing. They spring apart as they hear someone approaching.
Cathy begs Rita for a job at the Kabin. Dev thinks he has a sure-fire way to win the next pub quiz. Robert and Kate consult Adam about their baby plan.
Coronation Street continues tonight at 8.30pm
Get the latest updates, reviews and unmissable series to watch and more!
Thank you for signing up to Whattowatch. You will receive a verification email shortly.
There was a problem. Please refresh the page and try again.