Coronation Street spoilers: Jenny Bradley takes a tumble down the stairs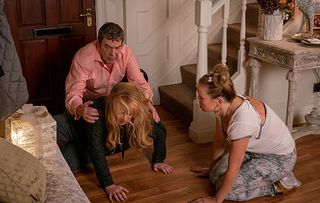 Jenny Bradley misses her footing and falls down the stairs uring another row with Johnny
Jenny Bradley and Johnny have another heated row over Johnny's sympathy for Liz and her situation. But as their argument deepens, Jenny misses her footing and falls down the stairs.
Gemma feels terrible for her as she walks in on the scene. With Jenny's black eye from walking into the door and now this tumble down the stairs, will anyone put two and two together and make five?
After being kicked out of the Bistro for being drunk and disorderly, Tim stands atop the fire escape on Victoria Street singing carols and Gina climbs up to fetch him down. Everyone is stunned at his behaviour but Gina sees it as an advantage.
An emotional Tim admits to Gina that he misses Sally but back at No.4, he's feeling maudlin and thanks Gina for being there for him throughout the trial. When Tim plants a kiss on her cheek, will Gina take advantage of his drunken state?
When prison dealer Marcia offers a downcast Abi some drugs to lift her mood, an eavesdropping Sally swiftly steps in and drags Abi away. Will Abi sneak back at a later date?
Eileen informs Seb that without Abi's blessing she won't pursue the guardianship. Sally urges Abi to stay clean to regain Seb's trust.
Get the latest updates, reviews and unmissable series to watch and more!
Thank you for signing up to Whattowatch. You will receive a verification email shortly.
There was a problem. Please refresh the page and try again.