Coronation Street spoilers: Johnny Connor and Liz McDonald kiss!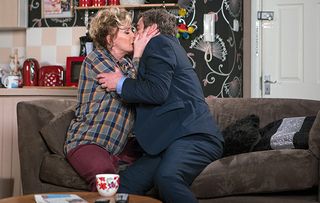 (Image credit: Andrew Boyce)
Johnny Connor turns up at at Liz's flat clearly drunk and the pair kiss passionately.
With Imran in tow Alya tells the Connors the game is up she knows Aidan left her the factory. Johnny Connor is stunned, even more so when he realises Carla and Jenny knew.
The women claim they didn't want to burden Johnny before the funeral but Alya accuses them of trying to screw her over. Adam explains the plan to contest the will on the grounds Aidan was of unsound mind but Johnny refuses to listen, adamant they must respect Aidan's wishes. Later, Johnny bans Jenny from the funeral before tipping up at Liz's flat clearly drunk and the pair are soon kissing passionately.
Eva tells Peter, Toyah and Leanne how she caught Simon and his mate smoking over the pram. Leanne does her best to force an apology from Simon but he's unrepentant and lays into a stunned Eva for the way she treated Aidan.
Nicola assures Gary he's welcome to visit Zack in Bristol whenever he wants. After a bottle of wine with Fiz, Eileen announces she's going with Nicola.
Steve tells Liz she could do much better than Mike. Geoff and Brian advise Kirk on how best to let Sharon down gently. Duncan, the dad of Rosie's model friend Olivia, asks Sally for some advice on a grant application he's submitted to her mayoral charity fund.
Second episode of the evening.
Get the latest updates, reviews and unmissable series to watch and more!
Thank you for signing up to Whattowatch. You will receive a verification email shortly.
There was a problem. Please refresh the page and try again.