Coronation Street spoilers: Peter Barlow visits a fragile Carla in hospital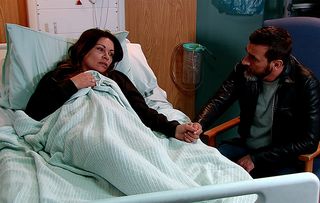 Peter Barlow is shocked that Carla will have to go for treatment in Carlisle.
Peter Barlow visits a fragile Carla and the doctor explains that they've found a place for her at a special unit but it's in Carlisle. Will Peter leave everything behind and head to Carlisle with Carla?
With Nick looking more and more like he was involved in an insurance scam, Gary wastes no time in reminding everyone that he had the health and safety report in his bag. Sarah tells Nick she wants nothing more to do with him and she will run the factory. Leanne is furious and tells Sarah she hasn't even got authority to pay the wages. Later, Gary tells Sarah he will deal with getting rid of the passports she took from Rick's office.
David tells Shona and Gail how much he regrets what he and Nick did - but Gail says he needs to give them some space whilst they take in what has gone on. Meanwhile Nick is still putting pressure on for him to take the rap in return for the business. Later, the police arrest Nick and David on suspicion of theft.
Dev makes plans to go to India to see a dying uncle but he's got a lot on his plate with Asha who says she is going to a party and won't take no for an answer. She later asks Aadi to cover for her. Gemma suffers terrible morning sickness. Rita and Chesney implore her to see a doctor but she refuses point blank, adamant she'll be fine.
First episode of Coronation Street this evening.
Get the latest updates, reviews and unmissable series to watch and more!
Thank you for signing up to Whattowatch. You will receive a verification email shortly.
There was a problem. Please refresh the page and try again.