Coronation Street spoilers: Phil makes Brian Packham look a fool at the nativity!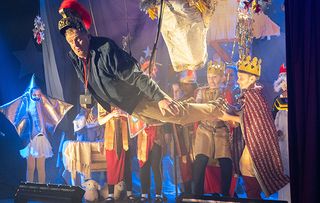 Phil is jealous of Brian Packham when the nativity is a success and gets his revenge...
When Brian Packham is sent home during the nativity final run through by Phil for exhaustion, he drowns his sorrows in the Rovers. But as he downs more pints he decides he has every right to watch the show, so drunkenly sneaks in to the back of the hall with Cathy.
David, Shona, Mary, Maria, Kevin and Tyrone are also in the audience while Phil paints himself a hero to the governors. When Jack spots Brian he, Liam and the others revert to the rap version of the play which is a resounding success. Jealous Phil calls Brian up on stage but as Brian takes a bow, Phil hitches his belt to the Angel Gabriel's harness and hoists him in the air!
Sophie calls at No.4 and is resentful of Gina and Tim's cosy set-up, and things get worse when Paula rejects the idea of launching an appeal and presents her with a bill running into thousands of pounds. Sophie suggests that Tim sells his half of Street Cars. Will he agree?
Rana confronts Adam and is unforgiving. She agrees to talk to Kate calmly but Kate is stung when Rana confirms they are over.
A hungover Jenny arrives home after staying out all night. Johnny invites Jenny for lunch but she gives him short shrift. Later, Johnny invites Kate to move into the Rovers.
First episode of Coronation Street this evening.
Get the latest updates, reviews and unmissable series to watch and more!
Thank you for signing up to Whattowatch. You will receive a verification email shortly.
There was a problem. Please refresh the page and try again.