Coronation Street spoilers: ARMED POLICE storm salon and arrest Jan Lozinski!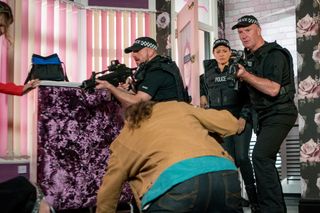 (Image credit: Andrew Boyce)
Eileen is convinced Jan Lozinski is guilty when he's carted off to the police station
Eileen is gutted in Coronation Street when Jan Lozinski tells her that he's a liar and a cheat and that he never cared for her. A fight ensues between Jan and Nikolai who smashes Eileen's phone so she can't call the police.
As Eileen starts to fear for her life, the police smash their way into the salon and arrest them all and cart them off to the police station. Having been interviewed by the police, Eileen's released without charge. Abi explains how Seb called the police which led to the raid on the nail bar and a downbeat Eileen tells Abi that Jan was part of the trafficking ring.
When Claudia announces that her plans have changed and she's moving into her flat after all, Ken masks his disappointment, aware that he'll miss her. Rita urges Ken and Claudia to talk honestly with each other as it's clear to her that they're going to miss one another.
Gary confronts Ryan over his apparent windfall. When Gary threatens to call the police, Ryan admits he took the money from the desk drawer but swears he had no idea it was Gary's. Gary tells him he can pay it back plus interest.
Carla steps into the breach when Roy slips in the cafe injuring his back. Fed up Emma reluctantly agrees to mind Liam as well as Joseph.
Second episode of Coronation Street tonight.
Get the latest updates, reviews and unmissable series to watch and more!
Thank you for signing up to Whattowatch. You will receive a verification email shortly.
There was a problem. Please refresh the page and try again.