Coronation Street spoilers: Ray Crosby traps Kevin and Debbie in the Bistro fridge!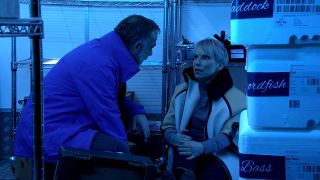 Ray Crosby shoes Kevin and Debbie how cold he can really be!
In tonight's hour-long episode of Coronation Street (ITV, 7.30pm - see our TV Guide for listings) Gary and Faye appear in court, but what will the verdict be?
Debbie tells Sally that she'd like to hire the best lawyer for Faye and use Ray's money to fund it. Kevin is sceptical and says he has had enough, chucking down his tools he says he's going to join Jack on his school camping trip.
But over in the bistro Ray Crosby has disguised himself as a workman and has overheard Debbie discussing her plans with Miles.
Furious he forces her into the walk in fridge and goes to lock her in. However, Kevin manages to hit him over the head with a frying pan and tries to rescue Debbie only to hear the door slam shut and realise they are both locked in the fridge.
A deeply worried Kevin and Debbie prepare for a long night…
Convinced he can see a ginger cat, Johnny confides in Gary that he's really struggling with his eyesight and feels like he's cracking up. He later calls Carla from prison and tells her that thanks to her and her big gob, the doctor is referring him to a psychiatrist.
Carla urges him to tell Jenny what's going on. Johnny calls Jenny and finally opens up to her about his hallucinations and the fact he thinks he can see Aidan. Jenny's heart goes out to him but is angry that Carla kept it from her.
Fiz asks Tyrone to look after the furniture shop whilst she goes to Hope's school assessment. But when Alina invites him for a coffee to discuss the business course she has enrolled on he leaves the shop unattended.
He returns and finds a guy called Leon helping himself to furniture but Leon assures him it was arranged with Fiz. Fiz returns from Hope's assessment and is shocked to find the shop half empty. Tyrone's horrified to realise he's been duped whilst Fiz dreads how Gary's going to take the news.
When Billy receives a Valentine's Day present from Paul, he can't help but feel saddened.
An upbeat Leanne shows Simon a feather she found, convinced that it's from Oliver and a sign that he's at peace. Having tapped in her card details, she books a consultation with Crystal Moon, a TV psychic who assures her that the feather was a symbol of Oliver's love for her.
Get the latest updates, reviews and unmissable series to watch and more!
Thank you for signing up to Whattowatch. You will receive a verification email shortly.
There was a problem. Please refresh the page and try again.