Coronation Street spoilers: Robert Preston and Jed square up!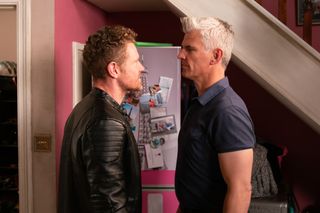 Vicky must make her decision as Robert Preston an Jed confront each other
Coronation Street's Robert Preston arrives at Vicky's to find Jed there and Vicky packing her bags. As the two men square up to each other Vicky tells them to leave her alone whilst she makes her decision. Who will Vicky choose?
Seb asks Faye to go the salon and give a note to Alina. When another girl does her nails Faye asks her to pass Alina the note. Seb is delighted when he gets a text from Alina asking him to meet her at the salon after work but as he arrives he is confronted by Nikolai!
In the corner shop, Mary's shocked to discover Evelyn is marking the prices down on goods she wants to purchase herself. When Mary threatens to report her to Dev, Evelyn bars her from the shop.
Imran uses insider information to offer Claudia £10k under the asking price for her flat - he knows the bail hostel plans have been dropped but she doesn't.
Taking out a wad of Rick's money, Gary stashes it in a desk drawer, before heading off on some dodgy business leaving Ryan to mind the furniture shop.
First episode of Coronation Street this evening.
Get the latest updates, reviews and unmissable series to watch and more!
Thank you for signing up to Whattowatch. You will receive a verification email shortly.
There was a problem. Please refresh the page and try again.