Coronation Street spoilers: Roy Cropper turns his back on Carla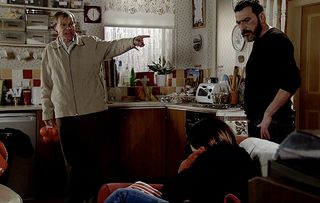 Roy Cropper is disgusted with Carla and orders her to move out
Johnny's torn when his suggestion to check on Carla enrages Kate, so when Carla returns from the police station she receives a frosty reception from Johnny. Sarah and Gary and keen to find out what she said to the police and follow her back to the flat. When Sarah starts asking awkward questions, Peter loses his temper telling them that he's got his money and suggests they should leave, much to the shock of Sarah who realises Gary did the bribe. Imran is out for justice and calls in the cafe to tell Roy that he intends to make Carla pay for her crimes. Meanwhile, a disgusted Roy Cropper orders devastated Carla to move out and she turns to Peter for a place to stay. As Peter helps Carla move her luggage into No.1, Kate yells abuse at Carla calling her a murdering bitch.
Scheming Geoff passes off supermarket bought broad beans as his own which impresses both Yasmeen and Brian.
Paul and Billy both turn up to the same paper round and are amused to find out Rita has set them up. Having completed their round the two head to the Rovers for a beer. Can they rekindle their relationship?
Chesney tears a strip off Gemma when her and Brian win the £1000 quiz prize against Mary. When Mary later confides in Gemma about how she narrowly missed out on winning the prize, she is overcome with guilt and admits she was fleeced.
Second episode of Coronation Street this evening.
Get the latest updates, reviews and unmissable series to watch and more!
Thank you for signing up to Whattowatch. You will receive a verification email shortly.
There was a problem. Please refresh the page and try again.