Coronation Street spoilers: Sally Webster is embarrassed by Heracles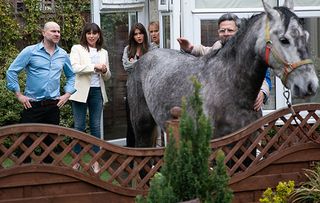 Sally Webster is forced to show her guests that Heracles is just an old nag.
Her dinner party underway, Sally Webster passes round the canapés and as Paula, Jacqui and Julian admire her eye for interior design, Sally preens. As she and her guests sit down to jugged hare, they're interrupted by Yasmeen and Geoff who demand to know why there's a horse in their back garden. At Jacqui and Julian's insistence, Sally leads her guests out to the garden to see her horse. They're taken aback to realise Heracles is just an old nag.
A stunned Audrey takes in the news, as David and Nick try to explain why they took the money. Will she see it in her heart to forgive her Grandsons or will she call the police?
DS Beckett calls round to question Carla. But on mention of the factory roof, she becomes confused and upset and it's clear she thinks Rana's still alive. Peter gives Carla her medication but unbeknown to him she flushes it away.
Rick makes it clear he is going to kill Gary prompting Sharon to leave. When Rick is called away to deal with a client Gary leaves a message on Sarah's phone warning her that Rick is after her. Rick returns and unties Gary and prepares to kill him, is this the end?
Get the latest updates, reviews and unmissable series to watch and more!
Thank you for signing up to Whattowatch. You will receive a verification email shortly.
There was a problem. Please refresh the page and try again.