Coronation Street spoilers: Sally's new cellmate is Abi Franklin!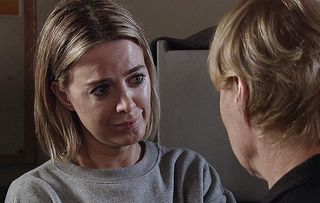 Abi Franklin says she want to help Sally. But what doe she have in mind?
Sally is surprised to find her new cellmate is Abi Franklin but recovers quickly enough to tell her that she needs to try and get her case adjourned. But when she explains she can't bring herself to make herself sick, Abi comes up with a somewhat unconventional plan.
As everyone arrives at the court they discover that Sally is in hospital. Paula is horrified when Sophie admits she told her mum to pretend to be ill, while Gina is horrified at her sister's duplicity.
Brian is exhausted after working all night on the play only to discover that there was no real urgency at all. Fiz and Tyrone complain to him that Hope has been excluded for biting a teacher. Brian wishes he could help but his hands are tied. Meanwhile, Cathy is concerned about the pressure Phil is putting Brian under.
Gemma tells Chesney she made a mistake, she is truly sorry and asks him out for lunch. It is clear they get on well and Emma feels slightly uneasy as she joins them. She asks Gemma if she has feelings for Chesney. Will she deny all?
Having heard nothing from Jude for weeks, Mary's worried and suggests to Angie they should report him missing to the police but Angie's not keen. Later, much to her annoyance, a police officer calls at the solicitors' office and quizzes her about Jude. Angie insists that Mary's fussing over nothing and he's simply run away.
First episode of Coronation Street this evening.
Get the latest updates, reviews and unmissable series to watch and more!
Thank you for signing up to Whattowatch. You will receive a verification email shortly.
There was a problem. Please refresh the page and try again.