Coronation Street Spoilers: Shona Ramsey reveals that the wedding is back on!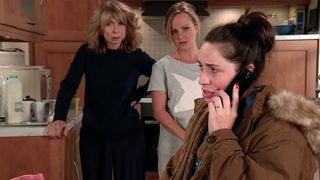 Shona Ramsey tells Gail and Sarah that David will soon be released, so the wedding can go ahead.
As an excited Shona Ramsey tells Gail and Audrey that David will soon be released and the wedding is back on, in Coronation Street on Thursday 7th November (8.30pm, see our TV guide for full listings).
The wedding guests gather in the Bistro and a flustered Shona arrives but there is no sign of David. Will he make it in time for his big day?
With the help of Lenny, Gary drags a bound and gagged Big Farmer (the hospital drug dealer) into the furniture shop and demands to know everything he knows about Ali.
Sally apologises to Abi, and admits she's over protective when it comes to Kevin. Abi agrees to move back in and assures Sally that she has no designs on Kevin, they're just mates. Abi breaks the news to Kevin that she and Sally have made up and she won't be moving in with him after all.
Get the What to Watch Newsletter
The latest updates, reviews and unmissable series to watch and more!
James has worked for What's on TV, TV&Satellite Week and TV Times magazines for more than 20 years. His all-time favourite TV shows (in no particular order) are Inspector Morse (but he refuses to accept The Wench Is Dead), Wallander (the Krister Henriksson version, of course), Our Friends in the North, Studio 60 on the Sunset Strip, and Around the World in 80 Days (Palin not Tennant).