Coronation Street spoilers: Shona tells David Platt the engagement is off!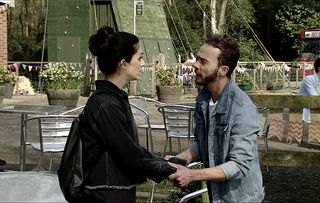 Shona confronts a David Platt after spotting him with Natalie
Natalie arrives at the holiday park with some worrying news for David Platt and Nick. What does she have to say? Meanwhile, Shona is less than impressed when she sees David in close conversation with Natalie and tells him the engagement is off. Meanwhile, Gail thinks Natalie's tattoo looks familiar...
The Platt clan set off on holiday minus Leanne who refuses to go as she believes Nick is lying to her. When Audrey, Gail, Nick, Sarah, Bethany, David, Shona, Max, Lily and Harry arrive at their holiday lodge they are determined to put their troubles behind them. Gail is convinced Lorraine Kelly is staying at the holiday park and cajoles Sarah and Bethany to chase the morning TV host down in a pedalo. Will Gail get to meet her idol?
Carla's mental health practitioner, Scott, calls at the flat. He's concerned to see that she's still suffering from paranoia. As Scott and Peter discuss her condition, Carla listens in a state of high anxiety. Michelle visits Carla and is shocked at the state of her and when Peter breaks down Michelle holds him.
Sally, Jenny, Sinead and Yasmeen excitedly take ownership of a beautiful racehorse. After a celebratory drink, the women head outside to admire their new horse only to realise they've been had and it's been replaced by an old nag.
Gary is shocked to find his passport in an envelope and even more so when Leanne reveals they broke in and retrieved it. When Audrey rings asking him to join them on the holiday he is all too keen to get away. But will he make it to the lodge without incident?
Get the latest updates, reviews and unmissable series to watch and more!
Thank you for signing up to Whattowatch. You will receive a verification email shortly.
There was a problem. Please refresh the page and try again.