Coronation Street spoilers: Tim Metcalfe pushes Duncan too far!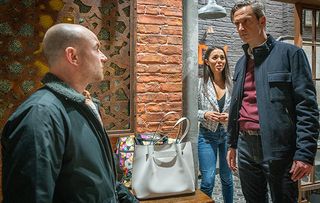 Tim Metcalfe sets off to Duncan's flat, wanting to beat a confession out of him.
After getting Olivia out of the restaurant, Duncan speeds away and Tim Metcalfe sets off to his flat, wanting to beat a confession out of him. He confronts Duncan, who does a runner but Tim manages to catch up with him and lunges at him. Duncan steps back into the road to avoid him and is hit by a speeding car. Will he be ok?
Claudia arrives back on the street from the police station, but has she been released without charge?
Daniel asks Kirk to give the flat a romantic makeover whilst he attends an appointment. Sinead returns home and is taken aback when Kirk explains Daniel went to get his head shaved in the hope that Sinead will feel better about losing her hair. But when Daniel returns home, will he really have gone through with it? After a call from the hospital, Sinead tells Daniel that they've got her scan results. Will it be good news for the pair?
Johnny confides in Carla that Jenny was driving the car when it hit Liz and that should the worst happen, he'd be grateful if she would look after the business. How will Carla react?
Coronation Street continues at 7.30pm on Monday.
Get the latest updates, reviews and unmissable series to watch and more!
Thank you for signing up to Whattowatch. You will receive a verification email shortly.
There was a problem. Please refresh the page and try again.