Coronation Street spoilers: Tyrone Dobbs says goodbye to Fiz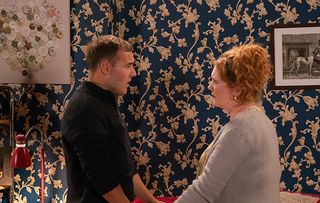 Tyrone Dobbs says an emotional goodbye to Fiz and Hope.
A gracious Evelyn offers poor Fiz some words of comfort and Fiz thaws towards her, suggesting she stays to keep an eye on Tyrone Dobbs. Tyrone, Ruby, Chesney, Evelyn and Kirk say an emotional goodbye to Fiz and Hope.
Nick tells Leanne that he's going to sell his share of the factory so that Elsa is out of his life for good. But does Leanne really trust him after all his lies? Meanwhile, Sarah clocks Carla and Elsa pouring over Nick's diary. Assuming his dinner date is with Leanne, they prepare to ambush him in Speed Daal. Will their plan work?
Sinead's mind has been whirling for days and she finally decides to quiz Ken about the money he gave to Carla, forcing him to admit he's been funding her therapy. Sinead is touched and shows him the scan photo of his grandchild. Later, Daniel feels the baby kick, telling Sinead he is the happiest man alive. She smiles at his happiness but her stomach is churning...
Steve and Tracy take Amy for dinner at the Bistro however their plan goes awry when Dev explains Aadi point blank refuses to go on a date with Amy. Will Tracey stand up for her daughter?
Second episode of Coronation Street tonight.
Get the latest updates, reviews and unmissable series to watch and more!
Thank you for signing up to Whattowatch. You will receive a verification email shortly.
There was a problem. Please refresh the page and try again.