Coronation Street spoilers: Will Abi Franklin abandon the twins?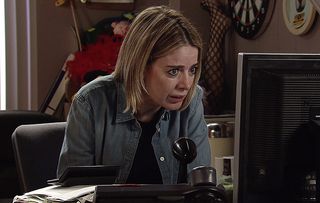 Abi Franklin has come to the conclusion that the twins are better off without her in their lives.
Abi Franklin (Sally Carman) struggles to master the computer at streetcars and Steve despairs as she is constantly rude to customers. Abi confides in Seb that she has discovered that the twins' foster parents are taking them to Lapland for Christmas and she has come to the conclusion that they are better off without her in their lives.
She cancels her visit with them and sits drinking vodka, with tears falling, watching them play in the foster parents' garden.
Nick and Carla don't see eye to eye over the future of the business. Can these two reach a compromise?
Having signed the contract without even reading it, Tracy and Steve are stunned when Amy points out certain clauses and threatens to divorce them if they don't adhere to them. Tracy is furious realising that Adam has stitched them up.
Arriving with Rita, Maria and Ken, Claudia is winding Audrey up about how much she is looking forward to the awards that afternoon. Audrey is horrified when Claudia tells her she has nominated her for the lifetime achievement award and, dreading the afternoon ahead, she starts to knock back the wine.
When the hospital calls Sinead with her next chemo appointment, Daniel answers her phone and Sinead is forced to agree to it.
First episode of Coronation Street tonight.
Get the latest updates, reviews and unmissable series to watch and more!
Thank you for signing up to Whattowatch. You will receive a verification email shortly.
There was a problem. Please refresh the page and try again.