Coronation Street spoilers: Will Gina Sneddon seduce a drunk Tim?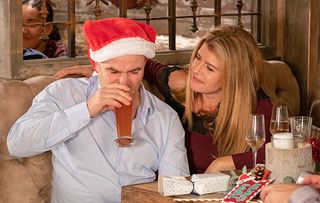 Gina Sneddon listens and forms a plan as Tim hits the bottle and rants about Sally's infidelity.
Tim invites Gina Sneddon to move in with him and Faye. When Sally phones home, Gina plays Tim and Sally off one another, leaving both crushed about their relationship. At the Street Cars Christmas party at the Bisto with Eileen, Steve and Tracy, Tim hits the bottle and becoming increasingly more drunk, he angrily declares his wife did the dirty, so it's time he did the same.
Gina enters and listens, intrigued.
Johnny's shocked by Jenny's black eye and Gemma is suspicious. Jim and Hannah have been released without charge and Jenny attempts to stir the pot by suggesting Johnny accompany Liz to the police station. Gemma notes the tension between them...
Cathy begs Yasmeen to give Brian this year's Father Christmas role at the Community Centre to boost his confidence. Will Yasmeen agree?
Eileen's taken aback when Seb explains that because he can't adopt the twins until he's 21, he needs her to apply for joint guardianship with him so they can move into No.11.
First episode of Coronation Street this evening. Second episode of Corrie at 8.30pm.
Get the latest updates, reviews and unmissable series to watch and more!
Thank you for signing up to Whattowatch. You will receive a verification email shortly.
There was a problem. Please refresh the page and try again.