Coronation Street spoilers: Will Seb Franklin and Alina sleep together?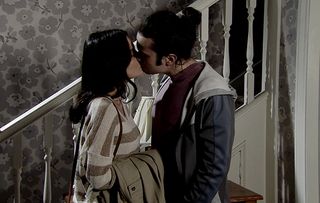 Alina agrees when Seb Franklin suggests she stays the night.
When Seb Franklin refuses to introduce Abi to Alina, admitting he's embarrassed to be seen with her, Abi's cut to the quick. Seb takes Alina back to No.11. When he suggests she stays the night, Alina agrees but tells him she's one or two things to sort out first and she'll be back about 10.30pm.
When the doctor tells Peter that Carla is being put on antipsychotic medication and being sent home, he tells Ken he is moving Carla in to number 1. Ken tells him they are not welcome as Peter is not well enough to look after himself, let alone Carla, and is furious when he discovers Roy is letting them move into the flat.
Unimpressed by Steve's plans to spend the house deposit on an app for Streetcars, Tracy tells him to get out instead and do illegal street picks us to make some more money.
Beth tentatively breaks the news to Kirk that Jasmine is a comedy scout and the reason people enjoy his songs is because they find them funny. After a chat with Abi, Kirk tells Beth he's going ahead with his tour as his songs put a smile on people's faces and that's all that matters.
When David finds Natalie in the pub, knocking back birthday drinks he steers her back to work. In the barber's, drunken Natalie annoys Nick by making snide digs about his dodgy dealings.
Second episode of Coronation Street tonight.
Get the latest updates, reviews and unmissable series to watch and more!
Thank you for signing up to Whattowatch. You will receive a verification email shortly.
There was a problem. Please refresh the page and try again.