Coronation Street spoilers: Yasmeen Nazir discovers Geoff has been spying on her!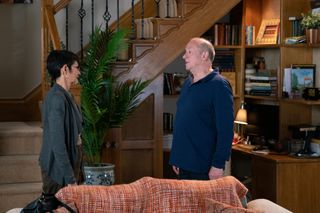 Geoff is forced to take drastic action when Yasmeen Nazir confronts him
Yasmeen Nazir is horrified to discover that Geoff has set up security cameras all over the house for her safety in Coronation Street. When she says she doesn't want them, Geoff accuses her of not considering his feelings and says it is over between them.
Bethany is shocked when a family arrive for dinner at the Bistro and she recognises the dad as a man from Nathan's parties. She confides in Daniel but asks him to say nothing. Will Daniel be able to control his anger?
When Sinead finds out that Emma's Dad died of cancer, it hits her hard and Daniel's concerned for her. Steve takes Emma for lunch in the bistro and pretending she's got something in her hair, he yanks out a tuft. While Emma heads to the loo, Steve places the tuft of hair in a plastic bag.
Aggie returns home and, to her amusement, finds Ed has glued himself to the wall. When Cerberus pulls at Michael's shopping bag, the contents spill out on the pavement to reveal a pile of pregnancy testing kits. Evelyn's intrigued.
First episode of Coronation Street tonight.
Get the latest updates, reviews and unmissable series to watch and more!
Thank you for signing up to Whattowatch. You will receive a verification email shortly.
There was a problem. Please refresh the page and try again.