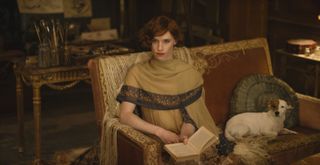 (Image credit: © Universal Studios)
This ravishing-looking costume drama tells of Danish artist Einar Wegener (Eddie Redmayne), who blazed a trail for gender reassignment
This ravishing-looking costume drama tells of Danish artist Einar Wegener (Eddie Redmayne), who blazed a trail for gender reassignment.
Largely departing from the historical facts, director Tom Hooper's biopic sets the scene in 1920s Copenhagen, where successful landscape painter Wegener is happily married to fellow artist Gerda (Alicia Vikander).
Then comes the moment of revelation. Wegener steps in for an absent model, donning women's stockings and shoes to allow Gerda to complete a painting, and the frisson he experiences leads him to question his gender identity.
Redmayne is very striking as Wegener explores his feminine side and realises his true self as Lili, with ultimately tragic consequences, and Vikander is equally impressive as the confused but supportive Gerda.
However, Hooper's overly staid approach prevents the movie from really taking wing and, for a film about a daring social pioneer, it is far too safe and decorous for its own good.
Get the latest updates, reviews and unmissable series to watch and more!
Thank you for signing up to Whattowatch. You will receive a verification email shortly.
There was a problem. Please refresh the page and try again.