Danny Dyer's Right Royal Family – BBC1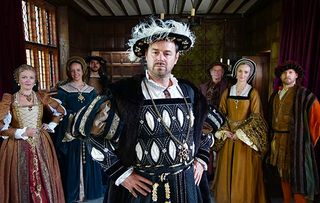 (Image credit: BBC/Wall to Wall Media/Jack Coat)
After making the discovery he was descended from King Edward III, Danny Dyer sets out to uncover more about the lives of his royal and noble ancestors in …Right Royal Family
EastEnders star Danny Dyer has fun delving into his regal ancestry in a new BBC1 documentary
Who Do You Think You Are? has been going for quite a few years now, but the moment Danny Dyer discovered he was descended from 14th-century King of England Edward III will live long in the memory.
Yet that was just the start of the story and in this two-part series, the EastEnders star traces his bloodline even further back, to William the Conqueror and beyond, while sampling the lives of his famous forebears.
This week Danny learns to scrap like a Viking, hunt like a Norman and joust like a knight of the realm, in an irreverent documentary full of cockney rhyming slang and fascinating history.
Please note this programme airs in Scotland at 10.45pm.
TV Times rating: *****
The proud Londoner finds out how far back his royal bloodline goes and how his regal relatives lived. Here, Danny, 41, tells TV Times more…
Has your life changed since you discovered your royal roots?
It hasn't changed at all. But it did fill some sort of void. I had always felt a bit of emptiness about why I am the way I am and why I'm in the position I'm in. I didn't train as an actor and I've come from a really working-class environment and I found myself all of a sudden in a position of responsibility, so to find out about my ancestors… it's a rags-to-riches story.
What can you tell us about this new series?
Ever since I was told I had royal heritage, I've been dying to find out more. When you have a family tree like mine, you have to go and explore it. I want to indulge in it, taste it and find out what their lives were actually like.
It's a history show that's told through my eyes, so I'm hoping it reaches a lot of people. Hopefully, you'll learn a lot more from one of my shows than you would from a David Starkey series. He's a clever bloke, but he's very boring!
Were you surprised by how far back your family tree went?
Yeah, that was a shock. My oldest known relative was Rollo the Viking, who came from Scandinavia to become the first Lord of Normandy in the 900s. We couldn't go back any further than that because no one knows who his mum and dad were.
He must have been some geezer, because he rose from nothing to the top of Viking society, which wasn't easy because they were a tough mob!
Get the latest updates, reviews and unmissable series to watch and more!
Thank you for signing up to Whattowatch. You will receive a verification email shortly.
There was a problem. Please refresh the page and try again.