Darren and Grace are single – and ready to mingle!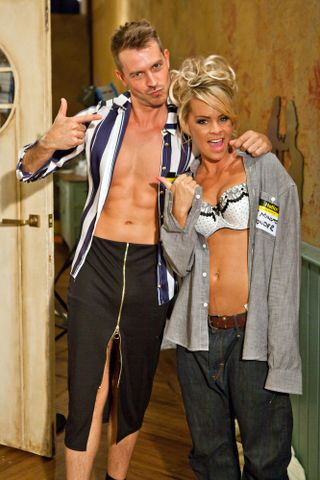 Esther's noticed Nancy has feelings for Darren and encourages her to tell him. Elsewhere, Grace spots a poster advertising a 'Single Mingle' night at The Dog and talks Esther into babysitting. At the event, Grace attempts to build bridges with Darren. They both get picked for the 'Clothes Swap' task and end up falling to the floor, laughing. Later, both Darren and Grace get cosy in the hot-tub…
Meanwhile, Lindsey tampers with Cindy's pills. As Cindy talks Simone into using her legal experience and speaking with Trevor about the murders, Lindsey overhears. Simone listens to what Trevor has to say as Cindy becomes increasingly unwell due to Lindsey swapping her pills. Mac braces himself to come clean to Cindy about Alfie but, just as Dirk takes him to the flat, Lindsey and erratic Cindy fight, and Dirk and Mac have to pull them apart!
Later, Nathan tells Mac that, if he doesn't come clean to Alfie, he will. Alfie's upset when his adoptive mum fails to show up at the Single Mingle night. Concerned, Neeta comforts Alfie and asks him to be Best Man at the wedding.
Also, Lisa tries to avoid having her photo taken for The Herald and thinks she's off the hook when Simone doesn't turn up, but her mum arrives just in time. Theresa tells the reporter from the paper about Simone visiting Trevor, angry that Simone is helping the man who 'killed' Phoebe.
Get the latest updates, reviews and unmissable series to watch and more!
Thank you for signing up to Whattowatch. You will receive a verification email shortly.
There was a problem. Please refresh the page and try again.