Deadly carnage in Emmerdale!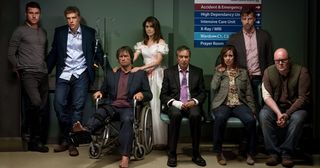 The penultimate episode of a special week in Emmerdale sees the village destroyed and the locals devastated by the carnage…
*Second episode*
With James Barton having been shoved off a footbridge on to the busy road below, hitting Ashley's windscreen, carnage has ensued. There's been a huge and possibly fatal pile-up. As confused and injured Ashley looks up to see Emma standing on the bridge, will he remember seeing her there as she took in the scale of the hideous accident she's caused?
In Paddy's car, the vet is barely conscious and Rhona is out cold. Pierce, whose car came off lightly from the crash, finds them and starts freaking out. While Paddy remains calm, urging Pierce to save Rhona, the panicked lawyer tries to prise open the passenger door to get his girlfriend out. Paddy, who's bleeding heavily, then passes out.
Deep in the lake, Robert comes to and is horrified as he realises what's happened and where he is. Eventually, Aaron responds to his screams and soon the men are battling to get free from the vehicle. As Victoria and Adam arrive on the scene and rush down to the lake, Robert surfaces, dragging Aaron with him. He's able to revive his boyfriend but no sooner is Aaron breathing than Robert disappears back under the water to free Lachlan from the boot… But Lachlan has already escaped…
By now Laurel and Doug have also made their way to the awful incident and are terribly worried about Ashley who's nowhere to be seen. They're relieved when he's found alive but clearly very confused about what happened. As police officers ask questions and get nowhere, Laurel is warned her husband could be charged for causing the crash.
At Wylie's Farm, Emma is reeling at the horror of what she's caused. Not sure what to do next, she rams things into a bag. Her phone is ringing off the hook. It's Finn, who's up at the hospital where James' life is on the line. Emma eventually answers and plays dumb as her distraught son fills her in – her face draining as Finn informs her James is alive…
Get the latest updates, reviews and unmissable series to watch and more!
Thank you for signing up to Whattowatch. You will receive a verification email shortly.
There was a problem. Please refresh the page and try again.