Death Row: Countdown to Execution – ITV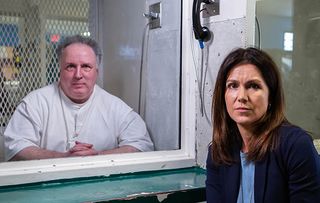 In the latest of ITV's Crime and Punishment strand, Susanna Reid visits America's busiest death chamber in Death Row: Countdown to Execution
In the latest of ITV's Crime and Punishment strand, Susanna Reid visits America's busiest death chamber in Death Row: Countdown to Execution
Her latest two-part Crime and Punishment documentary on ITV sees Good Morning Britain's Susanna Reid visit death row inmate Patrick Murphy in Texas.
Murphy, 57, was a member of a gang that broke out of jail in 2000 and killed a police officer.
All surviving members received the death penalty, including Murphy, even though he was not present when the murder took place.
'What's controversial about his conviction for murder is that he wasn't on the scene at the time and he didn't pull the trigger,' says Susanna (pictured above with Murphy), who also meets lawyers fighting for and against his execution.
Now a Buddhist, Murphy appears harmless enough, until he reveals that he previously served time for a violent rape.
He also admits he supports the death penalty – though not in his own case – and we meet his son, Patrick Jnr, who believes his father deserves to die for his crime.
'It's not exactly something to be proud of when your dad's a cop-killer,' says Patrick Jnr.
'It may sound cold-hearted, but I absolutely think he should be executed.'
This will be shown in Northern Ireland at 10.45pm
TV Times rating: ***
Get the latest updates, reviews and unmissable series to watch and more!
Thank you for signing up to Whattowatch. You will receive a verification email shortly.
There was a problem. Please refresh the page and try again.