Debbie wraps herself up - for Andy!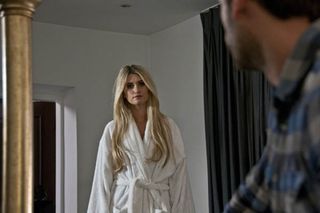 Debbie wants Andy, not for herself, but to make a saviour sibling for Sarah. Their first attempt didn't go well at all, though. They didn't make a baby; they made each other nervous and Debbie ran. But now she's ready to try again - she's just got to convince Andy to go along with her. Step one: get him to meet her in a bar (not The Woolpack!) She does that. Step two: slap on the slap and turn on her 'come-to-bed' eyes. She does that, too. Step three: convince Andy to join her in the hotel room she's booked. He does! Step four: seduce him. She does! Step five: now pretend everything's normal. Hmmmm, that's going to be tricky... Things are tricky at the vicarage, too. Sandy says he won't be moving with Ashley and Laurel; he won't be part of such drastic action being taken because Ashley doesn't trust Laurel. Ouch! The truth hurts Ashley and he lashes out, telling Sandy to find somewhere else to live. Of course, this time last year things were a lot different in Emmerdale - and Viv and Terry hadn't died in the fire set by Katie's psycho boyfriend. Now Bob and Brenda are planning a memorial for them... *Second episode* So, there's Alicia thinking she can rescue her relationship with Andy because he can't bring himself to sleep with Debbie. And there's Andy thinking he didn't just have sex with Debbie; he thinks they made love - and he wants to do it again. Uh-oh. Debbie, meanwhile, wants to keep the whole thing a secret from Cameron and goes into a panic when Andy tells her how he feels. They're supposed to be making a saviour sibling for Sarah, not planning their future together. Ashley's plans for his future with Laurel are falling apart. She says she won't move without Sandy and Sandy's not moving - except into the B&B. After Ashley threw him out, Sandy discovers there's no room for him in anyone else's home so he has taken up residence in Val and Pollard's establishment - and they're not happy! Neither is Marlon when he hears that Ashley and Laurel are moving to Leeds. With all the rumblings at the vicarage, Nicola has been looking after Laurel and Ashley's kids a lot and has made a decision: her little Angel is enough for her, she doesn't want any more. And Jimmy's delighted because neither does he. Yay! We have one happy family!
Get the latest updates, reviews and unmissable series to watch and more!
Thank you for signing up to Whattowatch. You will receive a verification email shortly.
There was a problem. Please refresh the page and try again.