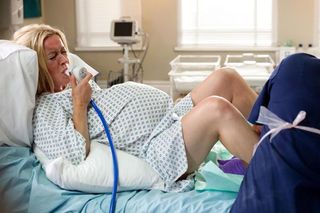 Tony is desperate for today to be normal, despite the fact that he'll soon know if his cancer is terminal. He suggests to Diane that they go to Southport. On the road-trip Diane takes the opportunity to ask Tony everything she can, so she can tell the twins about him, just in case...
On the beach, a young version of Tony emerges from an arcade. Tony tells Diane about a girl he met there once - unaware it was a young Diane who had caught his eye. Meanwhile, future Tony snaps to when Diane's waters break. At the hospital, Diane pushes as Tony rushes off to get her some water and notices a young girl, Tegan, in a lot of pain.
The midwife tries to tell Tegan that she's in labour, but the newcomer didn't even know she was pregnant. Back in the room with Diane, baby number one is on its way and Tony faints. He comes round as his baby boy is being cleaned up on the scales. Tony and Diane are overwhelmed with joy as their baby girl then arrives - welcome to the world, Anthony and Dee Dee.
As Tony smiles down at his new arrivals, his mobile rings and he knows he is about to hear his test results...
Get the latest updates, reviews and unmissable series to watch and more!
Thank you for signing up to Whattowatch. You will receive a verification email shortly.
There was a problem. Please refresh the page and try again.