Did Tristan attack Jemima and make it look like an accident?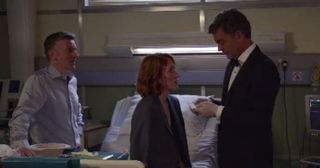 When the mistress of Holby chairman Tristan is admitted under a veil of secrecy, medic Zosia wants to know why...
When Holby chairman Tristan Wood brings his mistress to the hospital and her treatment is shrouded in secrecy, Dr Zosia March vows to find out what's really going on. Jemima Chase has a serious head injury after apparently falling and hitting her head on a bath.
Guy Self tends to Jemima's wound and agrees to handle the matter discreetly, especially when Tristan suggests he'll provide funding for Guy's Neuro Centre. But when Guy's daughter Zosia notices bruising on Jemima's arms, she looks into her medical history and is convinced Tristan's physically abusing her!
When Jemima's condition worsens, Guy suspects Zosia's right and confronts Tristan for the truth – but Tristan insists he didn't lay a hand on her. Not wanting to jeopardise his funding, Guy gives Tristan the benefit of the doubt. But Zosia knows Tristan's up to no good – and she's determined to prove it…
After saving a trauma patient, a confident Morven takes on the treatment of returning cancer patient, Aiden. But she soon clashes with Raf when he's not convinced her motives are purely professional.
Also, Dom's put out when Isaac accuses him of living like a teenager. Dom fights to prove his worth to Isaac, but Isaac is dismissive of his efforts. Is their relationship on the rocks?
Get the latest updates, reviews and unmissable series to watch and more!
Thank you for signing up to Whattowatch. You will receive a verification email shortly.
There was a problem. Please refresh the page and try again.