Doctors spoilers: Could Jimmi Clay's student patient be dangerous?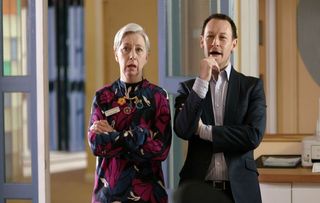 Jimmi becomes worried when he has a counselling session with a troubled student, Jordan, who has an angry attitude about women...
In today's episode, Dr Jimmi Clay has a counselling session with a troubled student, Jordan Mills, who reveals he is a virgin and a member of an online group for 'involuntary celibates'.
Jordan would like a girlfriend. But Jimmi becomes concerned when Jordan starts off on a rant about how awful women are, and how they are all money grabbers and only like attractive men. Jimmi begins to wonder if the online group is responsible for stirring-up such harsh and hateful attitudes in Jordan.
Jimmi shares his concerns with policeman pal Rob Hollins about the online group and, later, the medic becomes even more worried after reading some of the online posts. Meanwhile, Jordan is planning to make a move on a girl from uni who he likes...
Meanwhile, nurse Ayesha Lee meets another university student, Sadie Newcome, who has been having a challenging time.
Sadie had a breast removal operation after finding a lump and discovering she has the BRCA gene. At the same time, her boyfriend dumped her. So Sadie is in mixed emotions when another student, Greg Morris, asks her out to a party.
But little does Sadie know, student Jordan also has his eye on her...
Doctors continues weekdays at 1:45pm on BBC One
Get the latest updates, reviews and unmissable series to watch and more!
Thank you for signing up to Whattowatch. You will receive a verification email shortly.
There was a problem. Please refresh the page and try again.