Doctors Spoilers: Will James ever open up?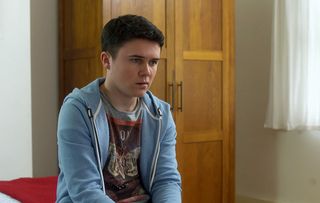 (Image credit: BBC)
Karen wants James to say what is on his mind...
James returns home from hospital and he has to spend the day resting, but he can't sit still and starts doing chores in secret. Karen finds out and tells him to get some rest and gives him a bell to ring if he needs anything. Later, James opens up about his mum and it makes Karen overcome with emotion. Will their talk bring them closer together?
Also, Mrs Tembe calls a staff meeting to tell everyone about Zara's latest idea. Zara suggests that the partners give £3,000 to a staff member to spend on an idea they have to improve the surgery. Daniel is totally against the idea, but the rest of The Mill staff are excited and everyone is keen to hear what eccentric idea Valerie comes up with. And she does not disappoint…
Get the What to Watch Newsletter
The latest updates, reviews and unmissable series to watch and more!
Tobi Oredein is an award-winning women's lifestyle journalist, media entrepreneur and international public speaker based in London, who focuses on race, feminism, beauty politics & popular culture. Tobi has been commissioned by Buzzfeed, British Glamour, Grazia, Elle UK, Fader, The Debrief, The Independent, The Pool, Stylist, Vice and others. She has also interviewed public figures such as Ryan Coogler, Ava Duvernay and Sir Trevor McDonald.