The Dog House - Channel 4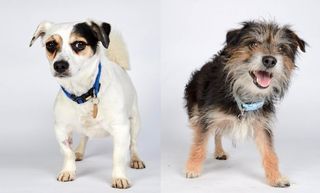 (Image credit: Alex Grace)
The Dog House follows staff who are committed to matching their homeless dogs with prospective owners
Welcome to Wood Green, The Animals Charity, where the business of teaming abandoned pets with new owners makes staff feel like they're running a dating agency!
Tonight's owners-to-be include a family hoping a pet might cure their daughter's fear of dogs and a lady who has been waiting her whole life for a pooch.
This simple show lacks the charm of Paul O'Grady's For the Love of Dogs, but animal lovers will still find it irresistible.
Paul Skinner tells us how adopting a dog has had a huge effect on his life
A lot of us would love to offer a home to a rescue dog, but it's a careful science matching the right pet with the right owner.
In the first episode of The Dog House, we meet Paul Skinner, 46, who recently had a leg amputated.
He and wife Julie wanted a four-legged friend to brighten up Paul's days at home.
'In 2013 I came back from cross-country cycling, knelt down and tore the cartilage in my knee,' explains Paul. 'I picked up an infection and it never really left. At one point I had steel rods internally from my hip to my ankle. I couldn't put myself through it any more, so operation 13 was an amputation.
MORE: Can you match the famous dog to the TV Show?
'I'm currently at home 24/7 and feel trapped. It would just be really nice to have a dog with me.'
Paul went to Wood Green for a small dog with a big personality.
'I've got a cheeky streak and I'd like the same in a dog,' says Paul. 'It would have to be a character.'
After meeting a few potential canine companions, Paul's heart was stolen by an energetic and affectionate Staffie, called Zeus, which he and Julie renamed Doug.
'I sit and talk to him all day now. Obviously he hasn't got a clue what I'm saying, but it's just nice to have the company,' says Paul. 'It's like having my best friend with me, it's superb.'
TV Times rating: ***
Thank you for signing up to Whattowatch. You will receive a verification email shortly.
There was a problem. Please refresh the page and try again.