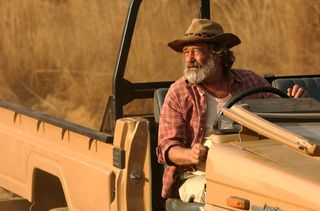 Danny is in prison being held on account of Peeters' death. Despite Dup telling the police that they have the wrong man, they tell him that Danny won't be going anywhere any time soon. Dup and Fatani, determined to clear Danny's name and get to the bottom of what happened to Peeters, decide to study CCTV footage. They discover that on the night that Peeters died, Ed was seen sneaking around in the night. Fatani decides to rifle through Ed's office, and discovers some evidence that he thinks proves Ed's guilt. As Dup and Fatani confront Ed about their suspicions, he reveals what he was actually doing was helping to move an endangered rhino to the reserve. Danny wholeheartedly believes him, but Dup and Fatani are still dubious. However, they finally give in, and decide to investigate Peeters' death further. They find a nest of poisonous snakes near to where Peeters was found, thinking that it must've been a snake bite that killed Peeters. After running tests, the police release Danny, who then heads back to England to be with Alice for the birth of their child.
Get the latest updates, reviews and unmissable series to watch and more!
Thank you for signing up to Whattowatch. You will receive a verification email shortly.
There was a problem. Please refresh the page and try again.