EastEnders spoilers: Mitch Baker bonds with Keegan over a kickabout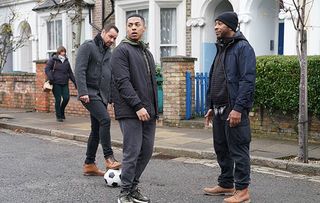 (Image credit: BBC / Kieron McCarron)
Mitch has Mick to thank for helping him out with Keegan, Tiffany is terrified of Evie, and Stuart has Dot right where he wants her.
Mick turns down Mitch's suggestion to help him coach the football team. Instead he helps Mitch spend time with Keegan by arranging a kick about. When Mick is left humiliated on the football field by a footy mum, Megan, Mick gives in to Mitch's plea to help him with the team.
After returning to the Square, both Mick and Mitch get it in the neck from Linda and Karen for disappearing without telling them.
Tiffany is in a state after the run in with the police and desperate to make things up to Evie. When Evie reassures Tiff that things will be fine as long as she finds a replacement for Rat, Tiffany panics. With the weight of the world on her shoulders, Tiffany ends up snapping at a surprised Stacey.
When Bernadette drops another bombshell on Tiffany, she has a go at Bernadette for getting involved. Poor Bernadette is left heartbroken. Meanwhile, Evie clashes with Phil and Dennis in the café. She's left stewing when the pair humiliate her. Determined to get her own back, Evie tells Tiffany that she wants Dennis to be the replacement for Rat.
Doctor Legg is getting increasingly concerned about Stuart living with Dot and he tries to tell her that Stuart stole the photo of his wife. Stuart, however, has Dot right where he wants her with his feet firmly under her table.
EastEnders continues on BBC1 on Tuesday
Get the latest updates, reviews and unmissable series to watch and more!
Thank you for signing up to Whattowatch. You will receive a verification email shortly.
There was a problem. Please refresh the page and try again.