easyJet: Inside the Cockpit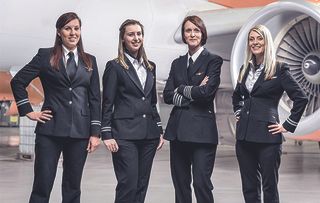 This behind-the-scenes series follows low-cost airline easyJet, which launched its biggest ever pilot-recruitment drive this year, including an effort to sign up more women
Is it just us, or are pilots getting younger? Low-cost airline easyJet launched its biggest ever pilot-recruitment drive this year, including an effort to sign up more women to the traditionally male-dominated profession.
This behind-the-scenes series follows a new intake of rookies as they learn to fly the easyJet fleet's Airbus 320.
With cameras installed in the cockpits, the series captures some bumpy landings and eavesdrops on the sort of conversations that go on up front while the rest of us are idly flicking through the in-flight magazine in the cabin.
Some of the trainers are ex-RAF, as becomes evident from comments such as: 'Enemy coast ahead'!
Get the latest updates, reviews and unmissable series to watch and more!
Thank you for signing up to Whattowatch. You will receive a verification email shortly.
There was a problem. Please refresh the page and try again.