Elle demands – save my son!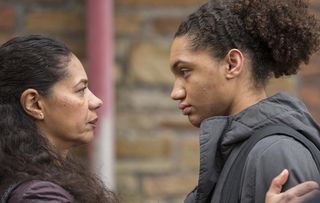 (Image credit: BBC)
Casualty doctor Elle Gardner is distraught when her son is viciously attacked at school…
Casualty shines the spotlight on doctor Elle Gardner and nurse Louise Tyler this week, revealing new, hidden depths to both characters!
First up, easy-going medic Elle's (Jaye Griffiths) easygoing facade falls to pieces this week when her teenage son, Blake, is violently attacked at Holby Academy. To make matters worse, Elle witnesses the entire attack as she's at the school giving a career talk!
Only hours earlier Elle had been defending her decision to send Blake to Holby's local state school, despite Jacob's jokes about how rough it is. But Elle's social beliefs are put to the test when she discovers her son is caught up in a dangerous gang war, thanks to his best friend Bruno.
Alarm bells start ringing when Elle, along with nurse Jacob Masters (Charles Venn) and former paramedic Josh Griffiths (Ian Bleasdale), visit the school to give a career talk about being medics but can't get in due to strict security measures!
By the end of the career talk, Elle realises Blake's best friend Bruno is bad news. But before she has a chance to consider her options a rival gang, trying to scare Bruno, viciously attacks Blake. Elle goes into shock as her son hits the ground with a terrifying head injury. Jacob and Josh rush Blake to the ED, and Elle's colleagues pull out all the stops to save her son, who pulls through.
Meanwhile, something's troubling Louise (Azuka Oforka). Why does she keep nipping to the hospital church? And why is she so intent on helping indifferent heroin addict Cassie?
Elsewhere, Alicia receives an unexpected phone call from a refugee charity who want to speak to Cal…
When Louise's best efforts with Cassie fail, she is comforted by Alicia, Elle and Jacob, who all agree to raise money for the refugee charity. They form a fundraising group called Knights to the Rescue in memory of their murdered friend.
Also this week, Ian Bleasdale guests stars as former paramedic Josh. He dusts off ageing ambulance 'Old Betty' and puts her to good use! Could this be the start of more appearances by Josh?
Get the latest updates, reviews and unmissable series to watch and more!
Thank you for signing up to Whattowatch. You will receive a verification email shortly.
There was a problem. Please refresh the page and try again.