Ellie gives Freddie a soaking!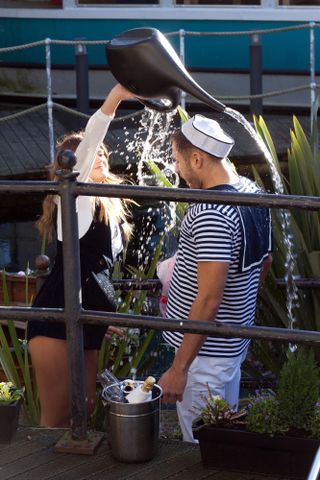 Freddie tries to put a smile on Ellie's face when he turns up at The Dog dressed as a sailor – but she's sick of his games and pours water over his head! Alfie can see Ellie has feelings for Freddie and persuades her to give him a chance, much to Marnie's annoyance. Ellie and Freddie decide to keep their relationship a secret – but a furious Marnie finds out. Elsewhere, a grieving Nathan gets drunk and lashes out at Holly.
Meanwhile, when the Osbornes receive another blackmail note for them to meet in The Folly with £5,000, Darren and Nancy panic and tell Maxine. Elsewhere, Maxine's stunned when Nico reveals she's the one who knows about Patrick but tells her that her secret's safe. Darren and Nancy wait for Maxine at The Folly but she doesn't turn up – that's when Maxine tells Nico she'll get her the money - only it wasn't Nico who left the note. Back at the Boarding House, another letter has arrived and Kim recognises Lindsey's handwriting…
Also, Esther tells Frankie she loves Kim, unaware Kim's stood behind her. Frankie changes her mind about Kim moving out – but hopes her granddaughter isn't set for a fall…
Get the latest updates, reviews and unmissable series to watch and more!
Thank you for signing up to Whattowatch. You will receive a verification email shortly.
There was a problem. Please refresh the page and try again.