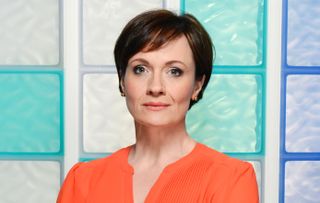 (Image credit: BBC / Kieron McCarron)
When Emma doesn't turn up to work, her colleagues start to worry...
When Emma calls in sick, Jimmi wonders if she's avoiding him because he rejected her advances last week. When Ayesha tells him that Emma has been in bed all weekend with the flu, his concerns grow. He calls Emma, but she doesn't pick up the phone, so he decides to pay her visit at home with Ayesha. However, they are both left horrified when they arrive…
Valerie is still reeling after Mrs Tembe's warning; so she seeks comfort from Daniel and expresses that she feels Mrs Tembe has treated her unfairly. Will Daniel use his power as a partner to override Mrs Tembe's decision to give Valerie a formal warning?
Tobi Oredein is an award-winning women's lifestyle journalist, media entrepreneur and international public speaker based in London, who focuses on race, feminism, beauty politics & popular culture. Tobi has been commissioned by Buzzfeed, British Glamour, Grazia, Elle UK, Fader, The Debrief, The Independent, The Pool, Stylist, Vice and others. She has also interviewed public figures such as Ryan Coogler, Ava Duvernay and Sir Trevor McDonald.
Thank you for signing up to Whattowatch. You will receive a verification email shortly.
There was a problem. Please refresh the page and try again.