Emmerdale spoilers: Faith Dingle seduces Rodney as part of her cunning plan!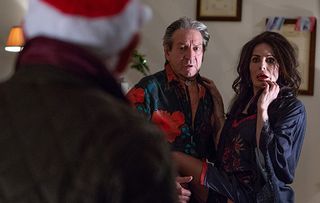 Faith Dingle uses her feminine charms to seduce Rodney Blackstock as part of her master plan to get him to move out!
Faith Dingle (Sally Dexter) wants Rodney Blackstock (Patrick Mower) out of Pollard's home so she can have Pollard all to herself. She cooks up a plan to cause maximum damage and uses her feminine charm to seduce Rodney.
Pollard is outraged when he comes home to find the pair entwined and kissing with Rodney looking like the guilty party! Has Faith's plan worked or will it backfire?
Elsewhere Dan Spencer (Liam Fox) demands that Daz (Mark Jordan) confess to the police that it was him who was responsible for the hit and run and not his daughter Amelia who he has left to take the blame.
Will Daz do the right thing and come clean to the coppers or will he continue to let Amelia (Daisy Campbell) shoulder the blame in the belief that the police will go easy on her?
Meanwhile David Metcalfe (Matthew Wolfenden) is worried about his son, Jacob's, moody and erratic behaviour.
Plus Harriet Finch (Katherine Dow Blyton) helps out a cash-strapped Bob Hope by offering him a job as a Christmas elf! Will Bob be up to the job of Santa's little helper?
Second episode of Emmerdale tonight.
Get the latest updates, reviews and unmissable series to watch and more!
Thank you for signing up to Whattowatch. You will receive a verification email shortly.
There was a problem. Please refresh the page and try again.