Emmerdale spoilers! Laurel Thomas DUMPS Bob who STRIPS in the pub!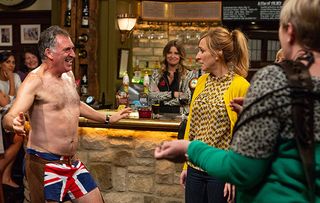 Bob Hope is forced to cobble together a strippers act when a booked gig cancels the Woolpack. Tiring Laurel Thomas dumps him.
No one likes getting dumped, least of all in public, and least of all when you're all but naked… But that's what happens to hapless Bob Hope. In the Woolie, he's had to cobble together a group of likely locals to strip when a gig he'd booked cancels on him. No wallflower himself, Bob (Tony Audenshaw) is getting into the swing of it all when his girlfriend Laurel Thomas arrives.
Now, Laurel's (Charlotte Bellamy) all ready tiring of Bob and has told her dad Doug Potts as much. He suggested giving things time and taking a break from village life. So that's what Laurel's been doing. But when she returns to Emmerdale, she finds her boyfriend in his boxers and the boozer. She's had it. When Bob tries to cajole her into having a laugh, she snaps and dumps him in front of everyone. OUCH!
The ripples of love-trouble are felt elsewhere. Aaron Dingle's all excited about the idea of starting a family but finds his hubby Robert Sugden (Ryan Hawley) putting the brakes on him when he tries to talk to his mum Chas about it. Robert's intervention sparks a worry in Aaron (Danny Miller) who wonders if his man actually wants to raise kids with him at all.
At Butler's, Moira Dingle (Natalie J Robb) gets husband Cain (Jeff Horley) to re-hire Debbie at the garage as she's struggling to make ends meet (since Joe Tate disappeared off the face of the Earth).
First Emmerdale episode tonight, second follows at 8pm.
Get the latest updates, reviews and unmissable series to watch and more!
Thank you for signing up to Whattowatch. You will receive a verification email shortly.
There was a problem. Please refresh the page and try again.