Emmerdale spoilers! Ross Barton organises another drug-filled party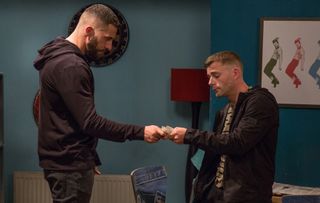 Ross Barton buys more drugs from dealer Gaz and throws a party
Ross Barton's partying ways have spiralled ten-fold since Rebecca White's disappearance blew up. Ross Barton had strong feelings for Rebecca (Emily Head) and simply can't cope with another tragedy in his life, which has been decimated by an acid attack.
However, Ross' friends are tiring of his self-destructive antics and refusal to listen to their warnings to stop.
Having earned some money up at Butler's, Ross (Michael Parr) is able to score from drug dealer Gaz and soon another party is kicking off…
Emmerdale continues tomorrow night with two episodes at 7.00pm and 8.00pm. Plus there's new documentary Emmerdale 1918 on at 8.30pm on Thursday evening.