Essie, let's have a baby!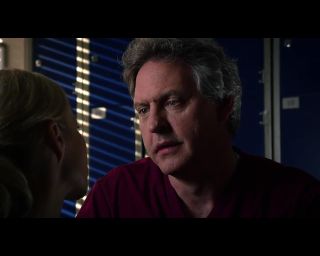 Keller surgeon Sacha Levy was left stunned recently when his girlfriend, transplant co-ordinator Essie Harrison, revealed she wanted to have a baby. It was clear Sacha wasn't keen, having already been through sleepless nights and changing nappies with his own kids Daniel, Rebecca and troublesome teen Rachel. But, wanting to please Essie, he reluctantly said he was willing to undergo a vasectomy reversal and try for a baby if that's what she wanted. Essie refused, though, saying she wouldn't want a baby if he wasn't for it 100 per cent himself.
Since then Sacha's felt conflicted and, this week, it seems his views may be changing as a patient reminds him of what it means to be a parent. When a drug addict woman, Casey, comes onto the ward with stomach pains, Sacha's incensed to find she's 20 weeks' pregnant and still injecting drugs. When Casey admits she's trying to clean up her act, Sacha softens and gives her an ultrasound scan, so she can see her baby for the first time. There's a problem, though, as the scan reveals an aneurysm, and Casey needs a life-saving operation.
Sacha fears such major surgery will put the baby's life at risk and wants to explore other options. But, when the aneurysm ruptures, Sacha has to rush Casey into theatre, where he saves mum and baby. The day's events have had an effect on Sacha, who later drops a bombshell on Essie - he wants to be a dad again and thinks they should try for a baby! What will she say?
Meanwhile, Guy gets a blast from the past when an old friend of his late wife, Anya, is admitted to Holby. Troubled by his motives for treating this patient, long-time friend and anaesthetist Jesse pleads with Guy to reconsider surgical intervention. Will Guy gain the perspective he needs, in order to leave the past where it belongs?
Also, it's starting to become clear that Darwin doctors Oliver and Zosia share an attraction. And it seems Zosia's psychiatrist boyfriend Seb is becoming increasingly unnerved by their undeniable magnetism...
Get the latest updates, reviews and unmissable series to watch and more!
Thank you for signing up to Whattowatch. You will receive a verification email shortly.
There was a problem. Please refresh the page and try again.