Esther takes an overdose!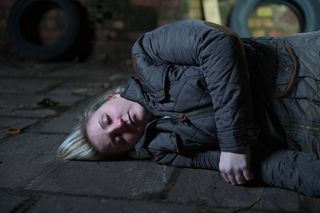 Haunted by her dark thoughts, Esther grabs some pills from the bathroom cabinet. Ironically, Diane hosts an anti-bullying session at college and puts Esther in a group with Sinead and Ruby. Esther's humiliated when Ruby pushes her chair away, causing her to fall on the floor, to rapturous laughter from the class. A distressed Esther is driven to believe her only escape is within a heart-breaking decision. Esther spends an agonising lunch break sitting on her own and later, Tilly offers to come round after college, but Esther will be 'busy' then... She's hit by another bottle of wee on her way out of college and makes her way to the Folly. Esther's frightened as she puts her plan into action. Tilly and Jen come to The Folly, but anxious not to be spotted together, a hidden Tilly ushers her lover away quickly, and Esther is left alone. Also, The Osbornes are happily oblivious to the perils in front of them until Frankie worries when Esther doesn't come home.
Get the latest updates, reviews and unmissable series to watch and more!
Thank you for signing up to Whattowatch. You will receive a verification email shortly.
There was a problem. Please refresh the page and try again.